---
Call Recording is ideal for contact-center environments and recording general business
conversations for compliance, legal protections, and quality management.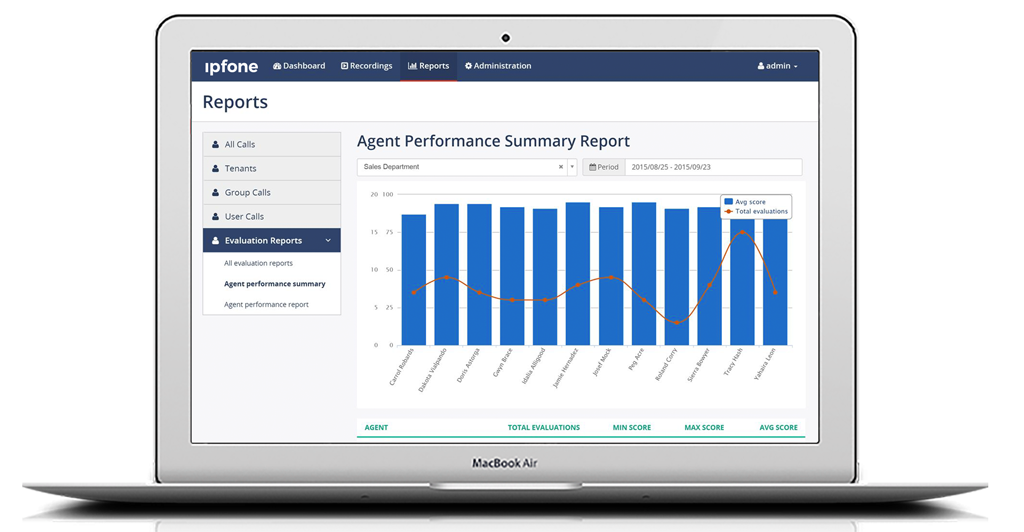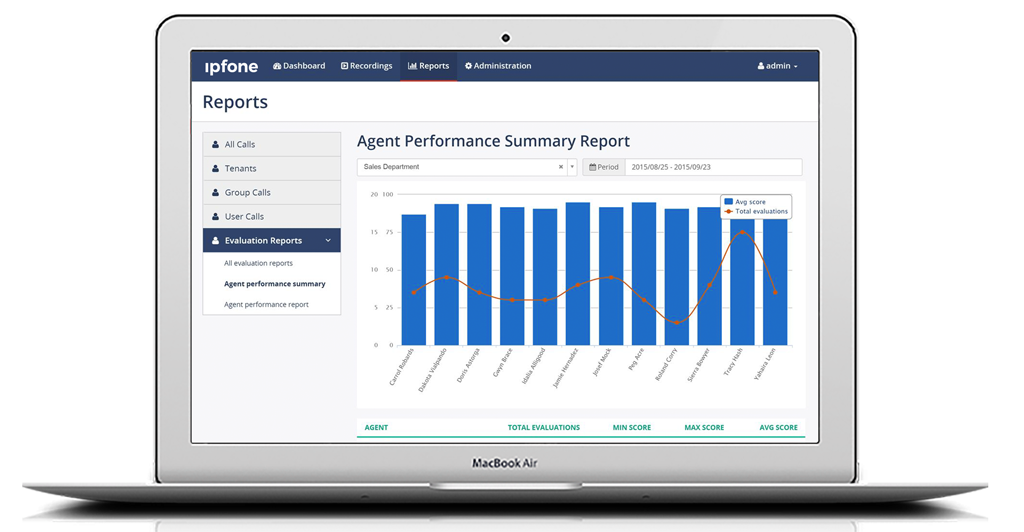 About Call Recording.
---
IPFone Call Recording is a call recording and quality management solution for small, medium, and large businesses. Companies worldwide rely on IPFone to optimize business processes, resolve customer disputes, comply with regulatory requirements and increase productivity.
Explore IPFone's Call Recording Features
---
Manage incoming calls intelligently with IPFone's Call Recording solution.
Web-Based User Interface
Access call recording anytime,
anywhere with IPFone's intuitive, user-
friendly Web interface.
Real-time Dashboard
IPFone's dashboard provides an at-a-
glance view of calls-per-day, call
duration, active calls, the total number of
recorded calls, and more.
Intuitive Call Search and Playback
Search millions of calls by any
parameter, quickly and easily–e.g.,
date, time, caller/callee number, agent's
name – or simply type in a search term.
Live Monitoring
Monitor employees' calls in real-time to
guide and support agents to deliver
optimum customer service.
Reporting
Generate statistics for calls, days,
groups, users, and more with IPFone's comprehensive reporting features.
Centralized Multi-Site Call Recording
Record calls made to and from multiple
locations/branches.
Screen Recording
IPFone Screen Capture allows to record
agent desktop activity associated with a
recorded phone call.
Speech Analytics
IPFone Speech Analytics software allows
one to search for keywords and phrases
incall recordings, providing more
insights into customer interactions.
Compliance Ready
Meet regulatory and corporate security requirements, including PCI-DSS, HIPAA, Sarbanes-Oxley, FIPS, FSA compliance, and others.
---
Full HIPAA Compliance and Protection
---
IPFone Call Recording helps healthcare organizations meet their regulatory
requirements by protecting the security of patient information under HIPAA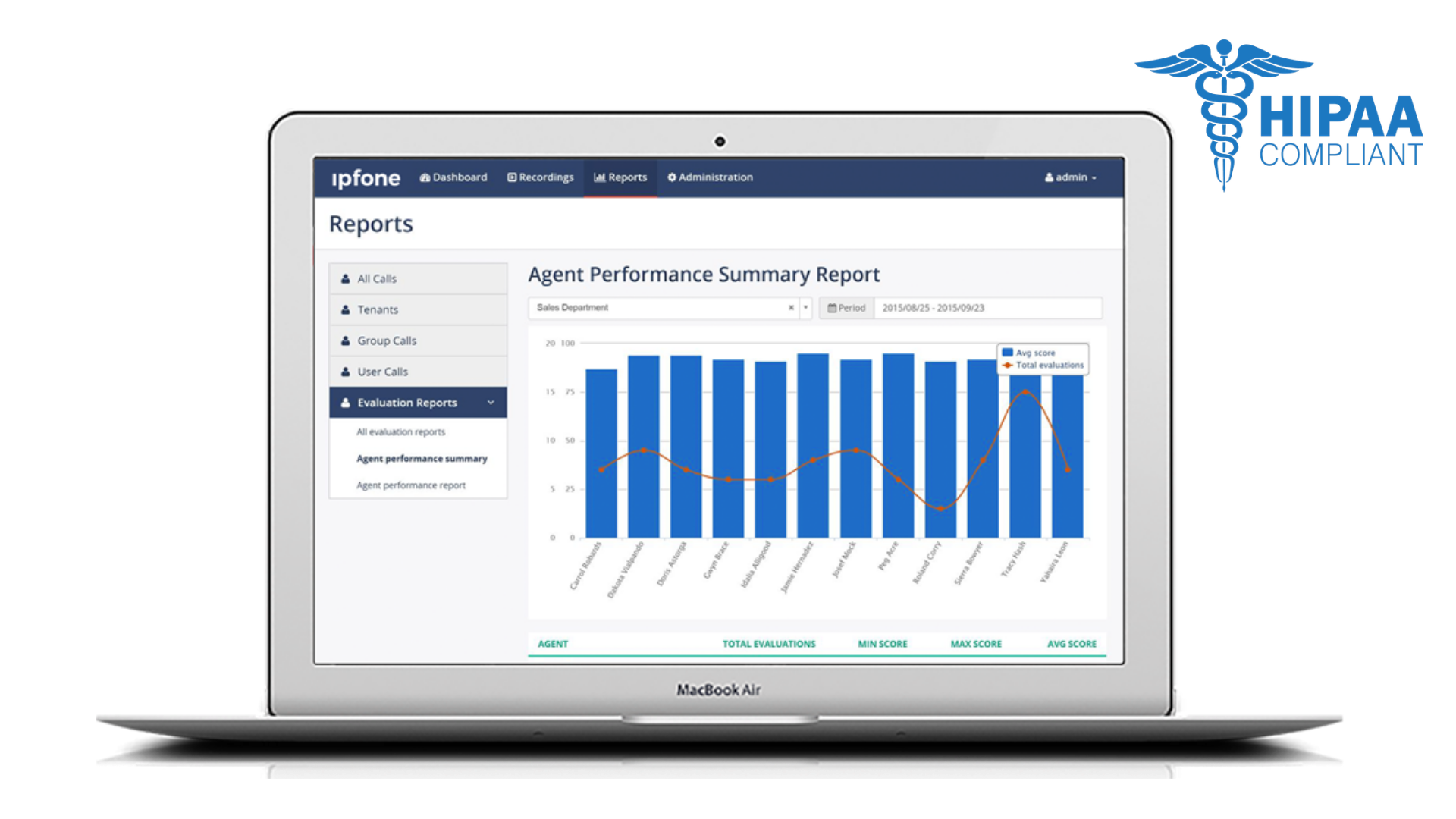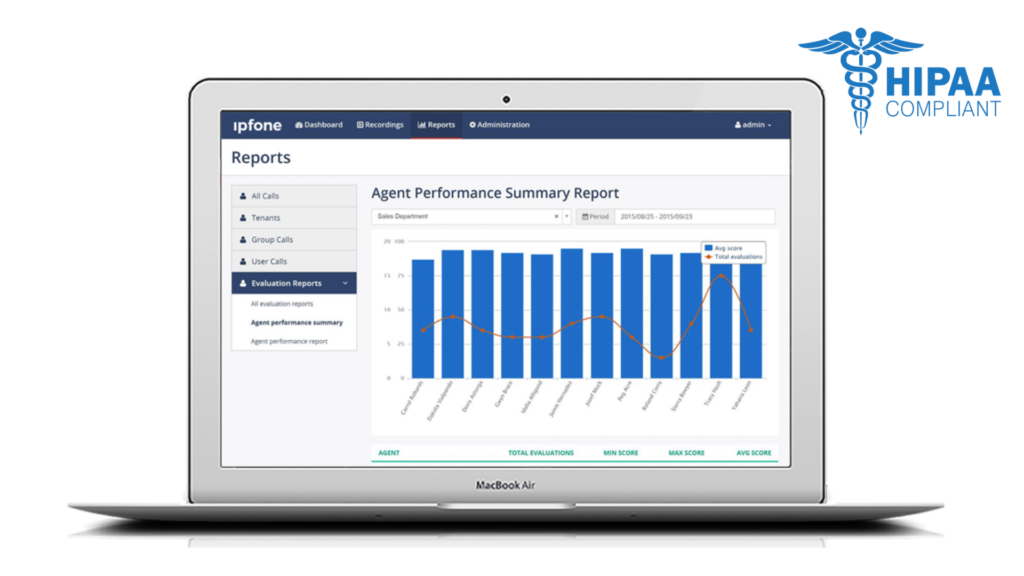 HIPAA Compliant Call Recording
---
IPFone Call Recording follows strict HIPAA compliance to ensure the confidentiality of every recording.
Role-Based Security
Access to call recordings is restricted to authorized users.
Encryption
Secure Socket Layer (SSL) encryption protects network communication during recording and playback.
File Watermarking
IPFone offers a powerful application to validate
the authenticity of any mp3 files, ensuring that call
recordings remain intact and unaltered.
Audit Trail Log
IPFone's activity tracking system enables full audit logs to determine who has accessed
recordings.
Configurable Retention Policy
Define archiving rules based on your business and compliance needs, and store various types of calls for specific lengths of time.